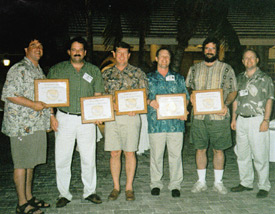 More than 80 NSSGA Young Leaders Council members and alumni came together to celebrate the group's 10-year anniversary at "A Decade of Leadership" celebration May 3-5 in Key Largo, Fla.
Speaker Bill Dyer, Quantum Leap Resources, presented "Motivating for Breakthrough Results," which helps managers motivate themselves and their employees to be more effective leaders. He discussed the benefits of a positive attitude and its effect on behavior. He focused on motivation as an "inner drive' and how to effectively use this to motivate others.
The session, "TEA 21: Creating Groundswell through Grassroots," featured YLC Past Chairman Bill Sandbrook, Tilcon New York Inc., and NSSGA Director of Government Affairs Jim Riley. Bill encouraged participants to become more involved in the political process and described Tilcon's contribution to the rescue efforts in New York City following the September 11, 2001 tragedy. He also emphasized that the YLC has had a dramatic impact on both his personal and professional life. Bill stated that the YLC has provided a foundation that has helped him prepare for leadership roles not only in his organization, but also the NSSGA and his community. Grassroots participation was the focus of Jim's discussion and he encouraged YLC members to actively participate in the association's government affairs activities and committees.
Dr. Joe Allen, managing associate director of the International Center for Aggregates Research in Texas, discussed "Aggregate Industry Research Initiatives," which highlighted specific industry research being conducted that will affect the aggregates industry in years to come.
Rounding out the educational sessions, NSSGA Executive Vice President and COO Charlie Hawkins provided valuable insights on how to get the most from your association membership. He advised attendees to take advantage of the educational and networking opportunities that are available to the aggregates industry only through NSSGA.
The YLC was pleased to have NSSGA Chairman Johnny Green, Standard Gravel Co., as a special guest and luncheon speaker. He stressed the importance of becoming more involved in the activities of the association and encouraged participation in the YLC.
The year 2000 marked the beginning of an annual tradition for the YLC. A leadership award was created in memory of former YLC steering committee member Mark S. Walsh of Rein, Shultz and Dahl of Illinois. In 2002, the third annual Mark S. Walsh Leadership Award was given to Bill Sandbrook. Bill's continued support and enthusiasm has been integral to the success of the Young Leaders Council.
This meeting also marked a change in leadership. Chairman Ric Suzio's term ended and he was praised for his tireless efforts to promote the awareness and importance of the YLC and for his dedication to the group.
Five of the eight YLC past chairmen were in attendance and were honored with plaques to express the group's appreciation for their many contributions and ongoing backing of the YLC. Thos honored included Paul I. Detwiler, III, New Enterprise Stone & Lime Co., Inc., (1993-95); David Wolfe, Wyandot Dolomite Inc. (1995-96); Bill Sandbrook, Tilcon New York Inc. (1996-97); Steve Detwiler, Buffalo Crushed Stone, Inc. (2000-01) and Immediate Past Chairman Ric Suzio, York Hill Trap Rock Quarry Co., Inc. (2001-02).
The roster of the YLC continues to grow and two of the goals of the YLC have been to retain and motivate our current membership and to recruit new members. The current YLC membership stands at 160 individuals representing more than 50 producer members and 18 M&S member companies. For more information on becoming a member of the Young Leaders Council, contact Kelly Campbell (kcampbell@nssga.org) of the NSSGA staff.
By Russ Witmer, YLC Chairman - Stone, Sand & Gravel Review