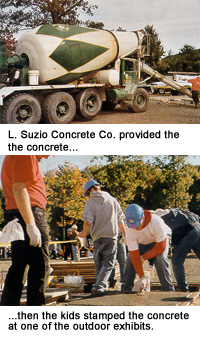 "At this very moment there's a need for thousands of additional skilled workers to fill job openings across the country in the construction industry. There's never been a time in our history when there's been such a shortage. And the problem is acute right here in Connecticut. That's not a good situation," stated Faith Gavin Kuhn, director of public information for CCIA.
Hard work and planning began for CCIA's first career day. "It was a big job pulling everyone together and putting on a two-day event," said Gavin Kuhn. "Even more so because we wanted it to be exciting for the kids…to show them the tremendous potential for careers and well-paying jobs in the construction industry. We wanted to make this special, and it was."
Packets of information were sent to schools across the state and on October 8-9, Connecticut's premier Construction Career Program was held. The event was held at Mountainside in Wallingford, CT. Wonderful weather helped because of the many outside exhibits.
Just under 1200 kids came, and the moment they stepped off the bus, they knew they were in for something special. In all there were 70 indoor and outside exhibits. The unions were well represented and had some really great hands-on exhibits. The L. Suzio Company provided concrete then kids stamped the concrete at the A.H. Harris and Connecticut Concrete Promotion Council exhibits.
With one successful Construction Career Day behind them, the organizers are already planning for 2003. "Going to be hard to top our first," says Gavin Kuhn, "but we're sure going to try."
Written by Gordon W. Keegan, Jr.